EV Shop - the eCommerce software by EV Network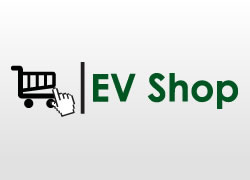 Developed by EV Network, EV Shop is a complete software for managing a business e-commerce. Offers you the opportunity to independently administer its own catalog, with the inclusion of categories, products, images, general product information, billing orders, etc... In an era where the web is becoming increasingly present and solid, the number of companies that decide to expand their horizons and land sales on the Internet increases exponentially through on-line store. Ignoring the growth of this sector is likely to be fatal for a company that wishes to establish itself in the market. EV Shop helps companies to bridge this gap, being a complete and professional software for managing an online store.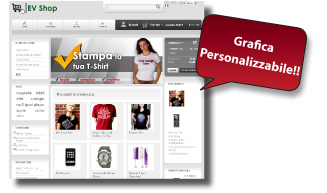 Benefits
AUTONOMY: It 's possible for you to update your website with complete autonomy, as often as you wish. You only need an internet connection to update your shop safely, 24 to 24 hours, 365 days a year.SIMPLICITY': Innovation and simplicity. These two elements together make our sales system the key to your success! Getting great results with ease is a great joy.
Some features
STABLE AND SAFE: EV Shop guarantees you maximum stability and compatibility on all platforms anywhere. In addition, our servers are equipped with backup systems and intrusion prevention, with a high capacity broad band network to provide high-speed access to the site. INTEGRATED PAYMENT: Within EV Shop are integrated all the major payment systems worldwide, Paypal, Credit Card, Cash Payment, Payment by Bank. To give your customers maximum flexibility and convenience at the time of the transaction. INDEXING SYSTEM: EV Shop will give your store maximum visibility within major search engines by allowing you to appear in the top pages of search engines such as Google, Yahoo or Bing.MULTILINGUAL: In addition to the standard four languages ​​(English, Italian, French, Spanish) EV Shop has an almost unlimited number of languages, 41 are currently available. With on-line translation tools and ability to import and export packages for translation.
Try it out!
To test the features of this software immediately we are giving you access to our demo by clicking on one of the buttons below, choosing and using the appropriate password to log on as administrator or as a customer.
For more informations please visit the website www.evnetwork.it or download the pdf brochure clicking on the link below.