Caldera

Caldera Graphics is the award-winning French software company with 19 years experience in "imaging technology" and specializes in software RIP for large format digital printers that sell, install and service all over the world.
The product line consists of Caldera RIP solutions for printing, cutting and printing, and color control driver for wide and superwide format printers.
Each application has unique features dedicated to the specific needs of the graphic arts market and based on powerful technology and exclusive Caldera.
Some of the outstanding features available in Caldera:
APPE • Adobe PDF Print Engine - The first RIP the world to offer you the opportunity to elabrare your work with the engine by Genuine Adobe PDF. Compatibility absolute and impeccable quality of calculation.
• Cost View - The module calculates the total cost of each print before it is actually produced by analyzing the consumption of media, ink and other additional costs. the exact cost incurred for each job will be on hand to make periodic reports. As a result, you can calculate your prices more accurately and offer your customers an interesting alternative to production quickly and effortlessly.
• Tiling + - The most advanced form of paneling on the market. With a few simple clicks you can create complex tiling, with abundances, slots and occhiellatture calculated and processed automatically by the software.
• VisualCut / GrandCUT - Caldera directly supports all popular cutter on the market: Zund, Konsberg, Mimaki, etc. The printing and cutting will not be a problem, all operated with a single software.
• FlipMAX - Caldera is the uncia rip the world that can support you directly in the production of lenticular. The module, developed directly with the world leader in the industry, will ensure the highest quality and precision in every job.
• Channels of White and Varnish - No problems with intuitive management of white and varnish with Caldera. No more confusion thanks to the modules that allow you to choose exactly when and how to use the additional channels of your printer.
• Performance and redistribution of the workload - Recognized globally as a rip-performance computing exceptional and extremely fast, Caldera can produce works of considerable size in no time. From simple that can go from RIP during the print process of calculating the distribution of RIP on multiple networked computers. With a single RIP can check an incredible amount of printers simultaneously. Caldera is also capable of processing jobs on multiple printers simultaneously, at no additional cost.
• Linux & Mac - No more worry of viruses or business firm that can undermine the entire enterprise. Caldera runs on Linux or Mac With this choice of development, you can sleep peacefully: your RIP is always active and ready for use. Moreover, thanks to Linux, lightweight and versatile, the overall performance of your computer will be drastically higher RIP to an identical PC but with Windows. Compatibility with Mac allows you to integrate perfectly with the needs of a GUI with printing technologies with a unique stability and compatibility.
• Interoperability - Caldera is compatible with all operating systems on the market. Act practically all graphics file formats used by the world of traditional print to the CAD. Compatibility.
Caldera is sold primarily in two distributions that are characterized by the size of supported machines.
VisualRip +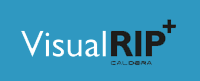 It 's the Caldera professional solution for all your printing needs and cut-based wide-format printers.
This solution is ideal for great results in the color and contrast on large format printers.
VisualRIP + supports printers Renting of manufacturers such as Xerox, Canon, Epson, HP, Seiko, Mimaki, Mutoh, Roland, Kodak / Encad, Océ ...

GrandRip + (Best Product of the Year - SGIA DPI 2009)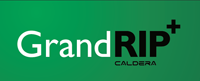 The solution is highly professional, flexible, fast and productive, dedicated to the super wide format printing systems. Ideal for printing and cutting. GrandRip + is the ideal engine for superwide format printers such as HP, Durst, Gandinnovations, SwissQPrint, Seiko, Matan, Vutek, Teckwin, Océ, Gerber, Zünd, Gandinnovations, Fuji, Agfa, DGI.
Note: If necessary, GR + tranquillamenete can support the technologies normally getibili by VR +.
Do not forget that Caldera has many features that increase productivity (nesting, crop marks, paneling, process automation, spot color, white management, incredible print speed) and different options to calculate the costs of production and sales, check the cut and color management. Standard features for Caldera, options for many other competitors.
For more information visit the official website , or contact us