Ser.Tec. heat presses line
The products offered by Ser.Tec. include both manual and automatic heat presses.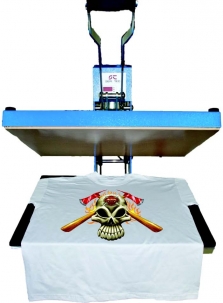 To open the range of heat presses we find P1 8, a manual heat press with heated top plate.
The standard pressing area is 38x40cm, as an option there is a 50x60cm size plate and a curved plate for pressing caps.
The pressing time and temperature can be set from the panel, once the timer has expired the press is automatically released by lifting the upper plate.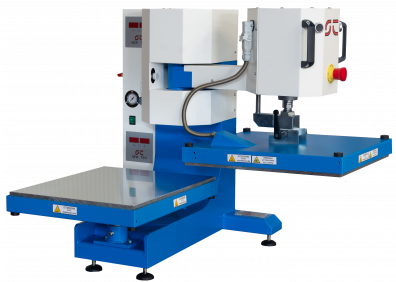 For single plate pneumatic presses Ser.Tec. proposes PM 1, with lateral translating movement of the manual press.
Fast, practical, equipped with plates of various sizes and complete with regulation and dedicated electronic card with timer, thermal copy and warning system.
The PM1 R2 version, on the other hand, mounts a double heating plate, thus heating both above and below.

As double plate solutions Ser.Tec. proposes the manual pneumatic press PM 2 and automatic PA 2.
In the automatic model, pressing the pedal, the press moves from one plate to another and lowers automatically, making the work process easier, more practical and faster. In the manual model, the movement from one plate to another must be carried out by the operator, to operate the lowering it is necessary to press the two buttons located in the upper part of the heat press.
On the front there is a keypad for time and temperature adjustments, an emergency button and a pressure gauge that indicates the set pressure, adjustable using the knob on the side.

Rotopress, on the other hand, is a double pneumatic heat press with 4 automatic rotating tables and two heating heads.
It is the most innovative press on the market since having 2 heads allows the processing of the supports to be transferred in half the time, thus doubling the hourly production, moreover it can be used by 2 operators at the same time with different jobs.
The plates are mounted on sliding guides for easy movement, in addition, different plates with different sizes can be mounted.
For the thermoforming sector Ser.Tec. proposes PA2 R2, an automatic pneumatic heat press with heated upper plate and lower plates.
The processing settings such as temperature, working mode and speed can be set on the touch screen panel.
The movement of the head and the lowering of the upper plate are automatic and can be activated with the special pedal.
It is possible to mount plates of various sizes and customize some aspects of the press for the various production needs.