Ser.Tec. ovens for drying silk-screen or digital prints
Ser.Tec. has recently renewed its line of belt ovens for drying silk-screen or digital prints.
Ser.Tec. ovens are equipped with a touch screen control panel for adjusting the temperature, carpet speed and other operating parameters. To minimize heat loss and therefore consumption, the tunnel of Ser.Tec. ovens is insulated and has adjustable openings on both ends.
All ovens in the line can be customized in length and width to adapt to the needs of individual customers and are compatible with the Industry 4.0 standard.


B2 - oven for drying digital prints
The B2 oven is a hot air oven for drying digital prints on fabric.
The peculiarity of the B2 oven is the return belt which has 2 advantages:
the hot tunnel is twice as long while maintaining a small footprint and the return of the printed garments allows the same operator to manage loading and unloading.
FT Air R - oven for drying silk-screen or digital prints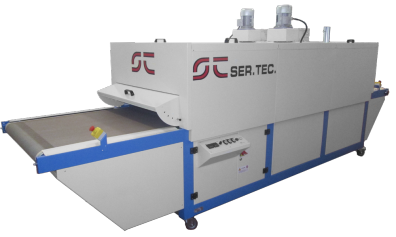 FT Air is an electric hot air oven for drying prints made with digital or screen printing technology.
The speed and temperature of the oven are adjustable to suit various types of ink and materials.
The insulated tunnel is heated by means of electric radiant panels and hot air spans with thermo-ventilation channeled on calibrated micro-holes for rapid drying and air recycling in the room to reduce consumption.
The length of the oven and the width can be customized by the customer according to the needs.
FT Radiant - radiant panel oven for drying silk-screen or digital prints.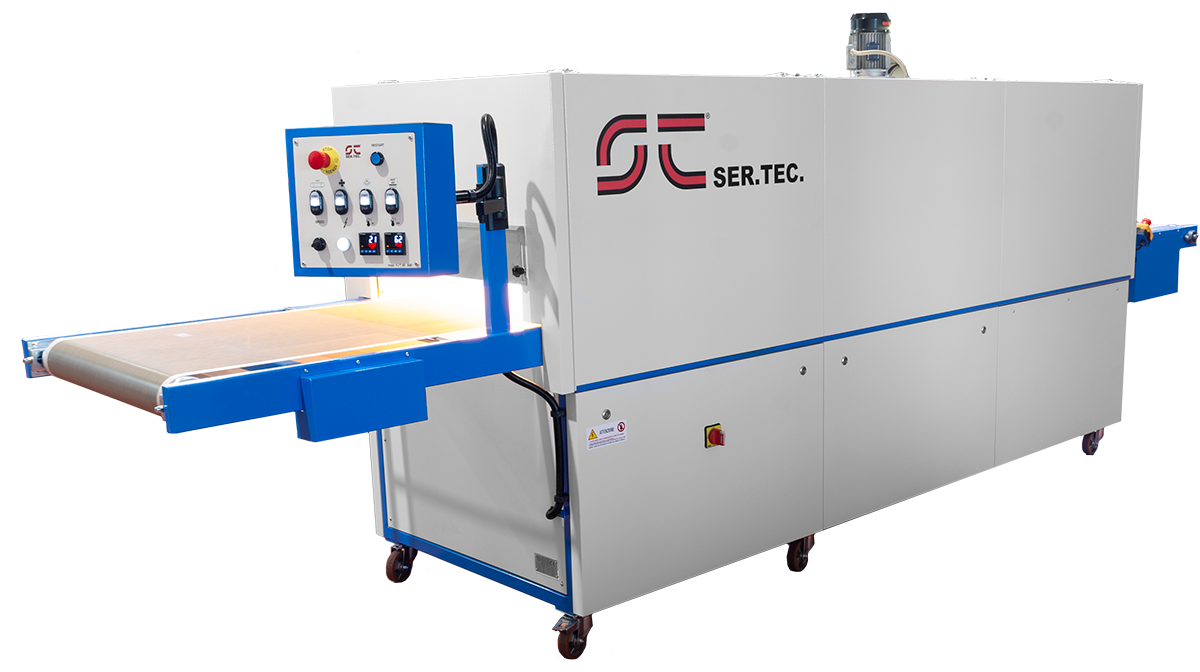 The tunnel of FT Radiant ovens are heated by means of radiant panels or IR lamps. This type of oven is suitable for drying both prints made with screen printing inks and digital inks.
It is possible to adjust the intensity of the lamps or the distance of the panels from the material to adapt the drying to the different materials.
Ser Air - modular oven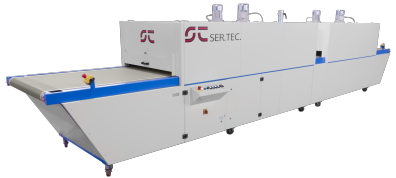 The line of Ser Air ovens for the polymerization of screen printing inks on rigid supports combines the different types of drying in a modular oven that allows you to use different methods in succession. The simplest configuration includes a hot air tunnel and an ambient temperature air tunnel to reduce the temperature of the materials, but UV, IR drying modules or air-conditioned cooling modules up to 1 ° can also be inserted for particular industrial uses such as drying of prints on plastic materials for thermoforming.