Floor Graphics
Walking inside an activity or a shopping center, you can't be attracted from the graphics on the floor. Each one transmit a message that is immediately recognized. Floor graphics are one of the essential components of visual communication inside shops, shopping centers, and every activity open to public as well as industrial, production and warehouse spaces. In visual communication, floor graphics if well managed, can highlight the peculiarity of a product or an event that otherwise would lose inside the large offert that is present inside every shop nowadays. Even though is rarely considered in an effective visual communication plan, floor graphics are one of the application with the larger growth in digital printing.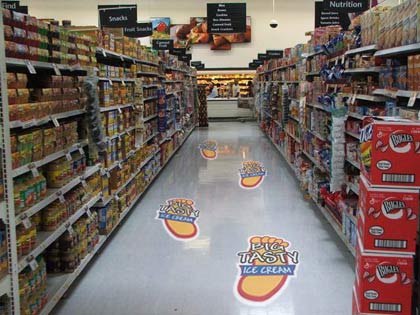 How it works
Usually everything starts from what you want to advertise and its context.In a shop you can decide to promote a particoular product or in a museum it's possible to highlight a particoular area. In a shoppping center the catering business or special offers can be exalted with a floor graphic exploiting the natural predisposition of people to watch where they are walking while the carry their carts. The gaze falls very often on the floor and this can be use effectively because the reply to this type of messages is always very positive. Join this type of advertising with other more conventional allow to strengthen the message perception.
Places for floor graphic
Museums, shopping centers, night clubs, airports, halls are all places where you can use floor graphics. In addition to advertising, floor graphics can be used also for signal warnings and possibles dangers.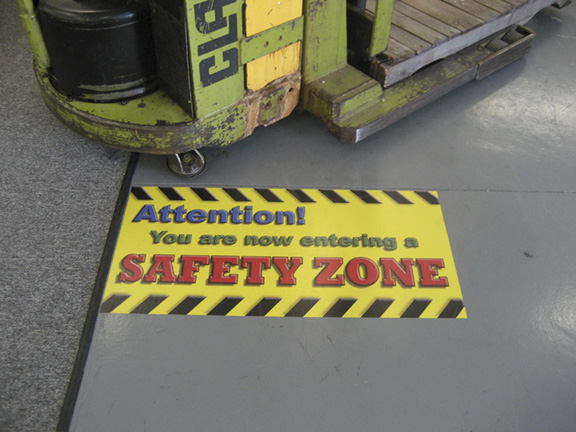 Preparing a graphic pack for an activity, commercial or industrial, it recommended to include also floor graphic.
Graphic tips
On the floor the message must be direct and impactful. Vivid colors, clored fonts with large body. Avoid light colors because the trampling and the dirt are immediatly visible. The fonts must capture the attention and must be read immediatly. The message has to be simple and direct. The shape is important so it's raccomended the print and cut technology. When possible it's better use unusual shapes.