Sport and work
Sport
Clothing personalization - cutted thermo-transferable
The sportswear personalization is one of the most diffuses market. From the simplest to complex personalizations realized with thermo-transferable vinyl for the creation of shirt for teams with numbers, names, sponsor and team logo.
With DPI you have the possibilty to cut vinyl and obtain very impacting effects. In the market today there are different types of cuttable material and thermo-transferable. Flocked, colored, elastic, metallised. Each one allow to obtain a different effect but especially unique. Is required a heat press that transfer the graphic to the garment permanently.
Customization with cutted thermo-transferable allows to create numbers, logos, names and written. This both on shirt, hats or bags.
Clothing personalization - printed and cutted thermo-transferable
The clothing personalization, commercial, fashion or sporting, is one of the most diffuses market. Compared to the above, with print and cut peripherals, the material can be printed and then cutted with the desidered shape. So we can create logos, Così possiamo creare loghi, emblems, symbols or sponsor's logos with color variations.
Clothing personalization - direct to garment printing
With dtg printing the graphics are printed directly on the clothes to customize, there are no needs to transfert the thermo-transferable material, a couple of minutes under the heat press are enaugh to fix permanently the graphic to the garment.
Clothing personalization - screen printing
Unlike digital printing, screen printing has set up costs for frames registration that are ammortized by a higher print speed. Usually you choose screen printing for large print runs to spread the costs of the set-up on hundreds, if not thousands of pieces, arriving to have a much lower cost per copy to digital printing.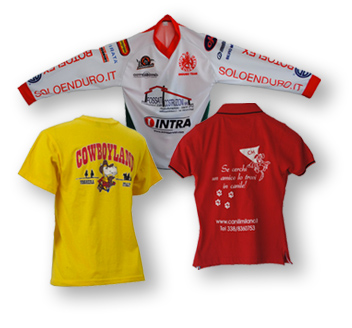 Work
Clothing personalization - printed and cutted thermo-transferable
The workwear is avery interesting market. It requires high quality graphics to communicate the seriousness of the company even in the detail of the simplest garment. With DPI it's possible the personalization even in single copy of every clothes thanks to thermo-transferable or Direct To Garment printers. The graphics is printed on the thermo-transferable material that is then shaped in the desidered shape. This is available in different shapes, color and characteristics.
For cutted and printed vinyl, and dtg printing is needed a heatpress to fix the prints permanently.
Adhesive and banners for sport and work
For sport and work there are many comunication opportunities. Let's see some.
Adhesives
The adhesives are one of the more immediate form of communications. Digital printing allow to realize runs of hundreds pieces but also single copy. The advantage of customized small runs in terms of margins and profitability, especially because the stickers can be printed and cutted in any shape, is obvious.
Are realizable logos, written or photo and size them as desired.
Banners
Banners are one of the most used materials in visual communication. They come in all types and all grammage and personalize an events simply and rapidly. A banner can stay everywhere and is a solution always welcome to the customer.
The banner is printable easily from all DPI machines and colors can be safely increased to create that colometric effect with whom usually the banners carry the message. It can be horizontal or vertical, mounted on a stand or on walls or on ad hoc supports. Once equipped with eyelets and welded, it is ready to be used.