Glass and windows
Why customize a shop window
The shop window is the business card of any company, shop, mall, bank or dealership. It 'a space on which to communicate, with the desired shape, all the concepts that make a difference for that activity can be immediately put into commercial prominence.
In short the shop window is a real marketing tool and allow to exit immediatly from citizen anonymity!
When you propose a graphic for window to a customer you must also consider that a window with a graphical harmonic gives a message of cleanliness and professionality to the customers of the activity, as well as serenity and joy.
In addition, the shop window well joins other applications that can be proposed inside the activity, in order to give a unique and harmonious message.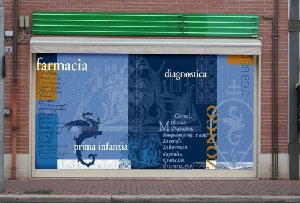 The materials
The window decoration is usually made of vinyl that can be printed and cutted to the desidered shape.
Obviously, colorful windows able to capture the attention may also be made only with cutted vinyl. Is important to preserve the symbols of the activity: logos, slogans and other graphic symbols must be perfectly integrated into the project.
The vinyl for its characteristics of brilliance give much emphasis to the graphic. The vinyl used for window decoration usualli has a longer duration for obvious reasons: sun, cold, rain, hands, sweat, scratches and other stesses typical of an outdoor graphic.
Moreover, it must not retreat, shatter or change state or it will be a work to be redone again.
Indoor windows
There are many type of films for glass. black-out, one-way, colored. Interesting are also the satinated vinyl that can, thanks to the cut, be realized to the desired shape, giving sandblasting effect to the glass.
Glass printed with digital printer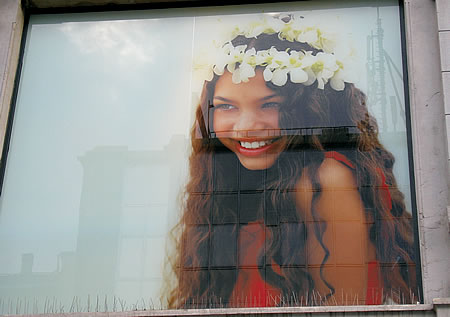 With UV Led printing of DPI printers is possible to print directly on the glass. With WhiteRIP you can print 3 layers ( graphic, white layer, graphic ) and have a double face effect with only one print.
Glass printed with screen printing
With Ser.Tec's screen printing machines it's possible to print directly on glass. Ser.Tec has a line of product dedicated to glass printing and treatment.